SOURCE:Country Weekly September 29th 1998
TITLE: Reba Takes on her Most Challenging ROLE:
AUTHOR: Gerry Wood
---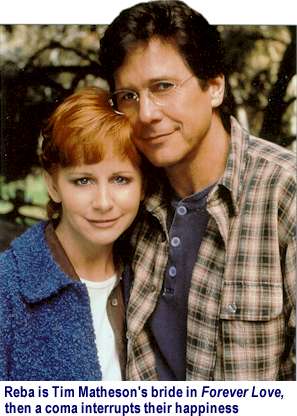 On Sunday, Sept. 27, the nation will see Reba McEntire take on
her meatiest acting role yet. Her parents, who enjoyed a sneak
peek of the CBS-TV movie Forever Love, have already voiced their
opinions.

"Mama said it was really good, and she's my toughest critic!"
Reba says. "She'll tell me if it's not up to par. She'll say, 'It's not as
good as I thought it was going to be.' But this time she said, 'I
really like it -- it was moving.' "

Another critic, Reba's father, paid his daughter the ultimate
compliment. "Daddy said, 'Reba, I even forgot it was you on the
screen.' "

Yet, as the air date for Forever Love approaches, Reba's focused
on what she calls "my latest adventure in the movie world." She's
come a long way since her feature film debut in the thriller Tremors
eight years ago.

"I'm really thrilled with my improvement in acting. God knows, I
needed to go in an up direction!" she says, laughing. "I had a lot
more dialogue on this film and I was really thrilled with the results.
"It's a very moving emotional movie -- just a roller coaster of
emotions. But it's cute and funny, too."

The plot follows the true-life story of a woman who slides into a
coma only to awaken 20 years later into an entirely different world.
It's a demanding role.

"It took a lot out of me," Reba says, "because there were some
very emotional scenes like when I woke up and I first saw my
daughter, or first saw my best friend and when I found out the
things that had happened when I was in the coma."

Those
things
include
discovering
that her
onscreen
husband
had
become
romantically
involved
with her
friend as
they cared
for her over
the years.

"People
would ask,
'How did
you
motivate
yourself?' "
Reba says.
"I thought
about,
'What if this happened to me? How would you feel after being a
mother realizing you've lost 20 years of your husband's life, your
life, but mostly your child's life?' "

Reba never met the woman whose experience inspired the movie.
She's in poor health and in a nursing home. But while studying for
the role, Reba became close with the woman's daughter, Marilyn.

"In the true story, she was in the coma for 30 years and when she
woke up, she had grandchildren. Marilyn told me all about it, and
you have never heard of such an unusual story in your life."

Reba relates the day the woman woke up. "A nurse walked by
and she said, 'Excuse me, can I have an aspirin? I have a
headache.' Those were the first words she said in 30 years!" Reba
marvels.

Despite the intense storyline, there were plenty of laughs on the
set.

"We had a great time," she says. "When I was in the coma, they
had me strapped to what Tim called my feedbag -- one of those IV
lines. And they'd say, 'OK, Reba, hop out, we've got to move the
bed around and make it look like the '70s instead of the '60s.'

"They'd change the sheets and my hair would be shorter and I'd
be walking around with my nightgown on and carrying my IV bag
around with me. It was just hysterical."

Reba made sure she took good care of the cast and crew. "We'd
get a cappuccino truck to come in on the set and we'd buy for the
whole crew and actors."

Since conquering this role, Reba has found a newfound
confidence in her acting abilities. "I hadn't done a movie in three or
four years, so it's also kind of a comeback. I want bigger and
better things. We've done more television than feature films, and
the feature films have been small parts. So now I really want to
star in a feature film through Starstruck Films."

A screenplay starring Reba is already in development. While she's
mum about revealing details, she terms the role "unusual" and
hopes to start filming it next year.

One role Reba won't undertake is her own life story. "I've never
been a huge fan of me doing my life. The book -- Reba: My Story --
was hard enough!" she says. "Maybe sometime, hopefully when
I'm dead, somebody will do it. I've always been a fan of Loretta
Lynn's Coal Miner's Daughter. That was a wonderful movie and it
showed some really great things that she had done in her life."